Darts are a fun and enjoyable past-time that almost anyone can play. But, when it comes to playing an actual scoring round, it can start to get difficult. Playing a round and trying to keep track of what score you're up to during a game of 501 can be nigh on impossible for the novice player. While you can ask the scorer what is remaining, it's poor form to do this after every shot. Ideally you should be able to keep track of the score yourself, but concentrating on what you're doing coupled with mental gymnastics is not everyone's forte.
In the beginning rounds of 501, it's not that big of a deal and you can tally the score quite easily after you've had your shots. But it can get a little more intense at around the 170 mark, as from then on, it's entirely possible to win with three shots. Remember that you need to finish on a double, so if you can't keep a good track of the score then it can be easy to miscalculate that important final shot, and hand over the round to your opponent.
When it comes to darts scoring, thankfully you have a few choices of mobile apps to help you out. But not all apps are born of the same stuff, and in the worst cases some are nothing more than a drain on your battery, and a fist full of ads. Here we have a sample of what we feel are the best darts scoring apps available. You can download these and try them out while playing during practise events or the weekend pub crawl with your mates.
Score Darts
Score Darts is the office favourite at Your Darts. It is packed with features and can score for the most popular darts games, including 301, 501, and cricket. It is very easy to use when playing against an opponent or during practise sessions. One of the best features about Score Darts is that it has an onboard opponent (DartBot) that you can play against for practise matches.
When you load Score Darts up, you can enter in how many sets and legs you wish to play. Then as you enter in the scores, Score Darts will keep a record of your averages and other statistics. Score Darts comes with a caller to announce you and the score tally as you play. It will also offer suggested checkout shots to give you the best chances of winning the game, and if it is possible during that round.
If you've been having a great session, and want to share it with your friends Score Darts offers you the chance to post your scores to your social media accounts (Facebook & Twitter). You can download the free, lite, or paid version to your phone and see if Score Darts can help you build your game. We know it has worked for our team, and that's why it's our number one pick for a darts scoring app!
Download Score Darts for Apple.
Download Score Darts for Android.
DartCounter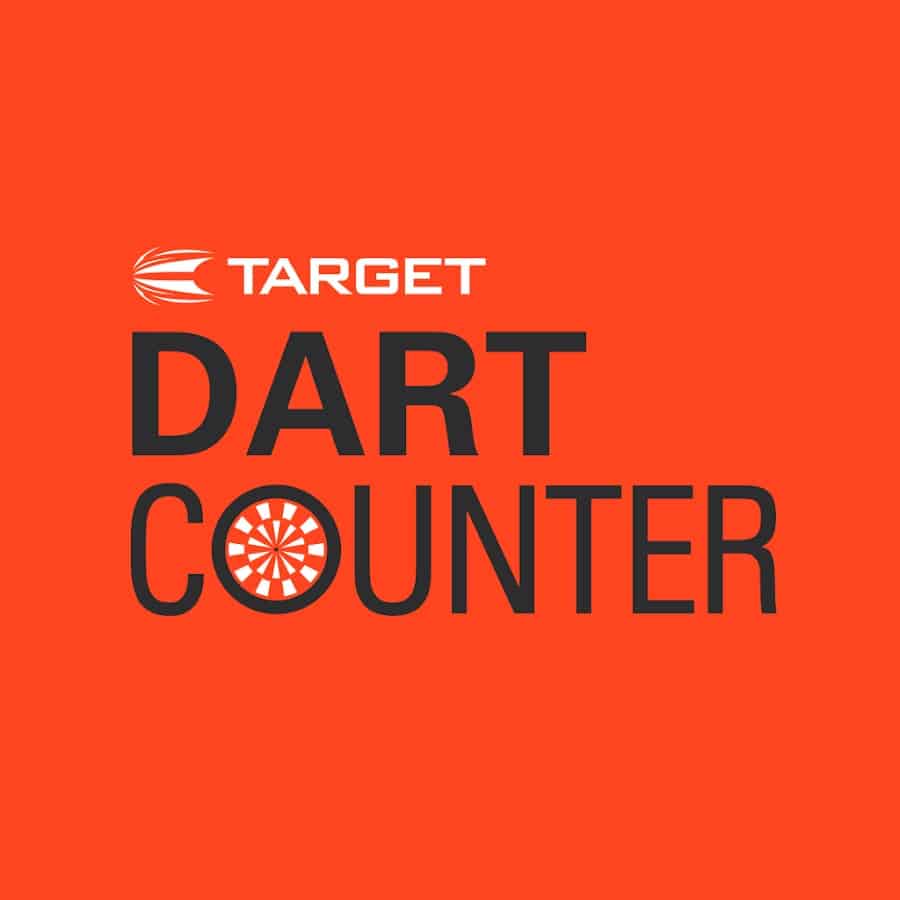 DartCounter claims to be the biggest darts scoreboard app and it uses the voice of Mastercaller Ray Martin to announce you and tell you what scores you need to finish out a round. You can register through Facebook or log in with your DartsCounter account for all your scores to be saved, and when you play with friends on the app your scores will be saved on both devices, but you can play without an account if you'd prefer.
There is a computer dartbot to play against, and many other training options. For the best out of the app you can pay a monthly/yearly fee under a subscription. One of the drawbacks for this dart scorer is you need to enter the total of three darts and not each individual shot, which may not help you in finishing out your round.
Learn more about DartCounter here – https://dartcounter.net/
Essential Darts Scoreboard
Essential Darts Scoreboard offers all the power of other darts scoring apps, but none of the looks. If you want smooth calculations and statistics without any of the glam then this is probably the best app for you. It tracks all the popular games, and has room to add up to 4 players.
The app also comes with a computer training mode that allows you to pit your skills against a digital opponent. This is perfect for training, and adding skills to your game. It also comes with an undo button, so if you have big fingers and enter the wrong details it can easily be corrected.
Download the Essential Darts Scoreboard here – https://play.google.com/store/apps/details?id=com.wouterapps.s143493.EssentialScoreboardAds&hl=en_AU&gl=US
Russ Bray Darts Scorer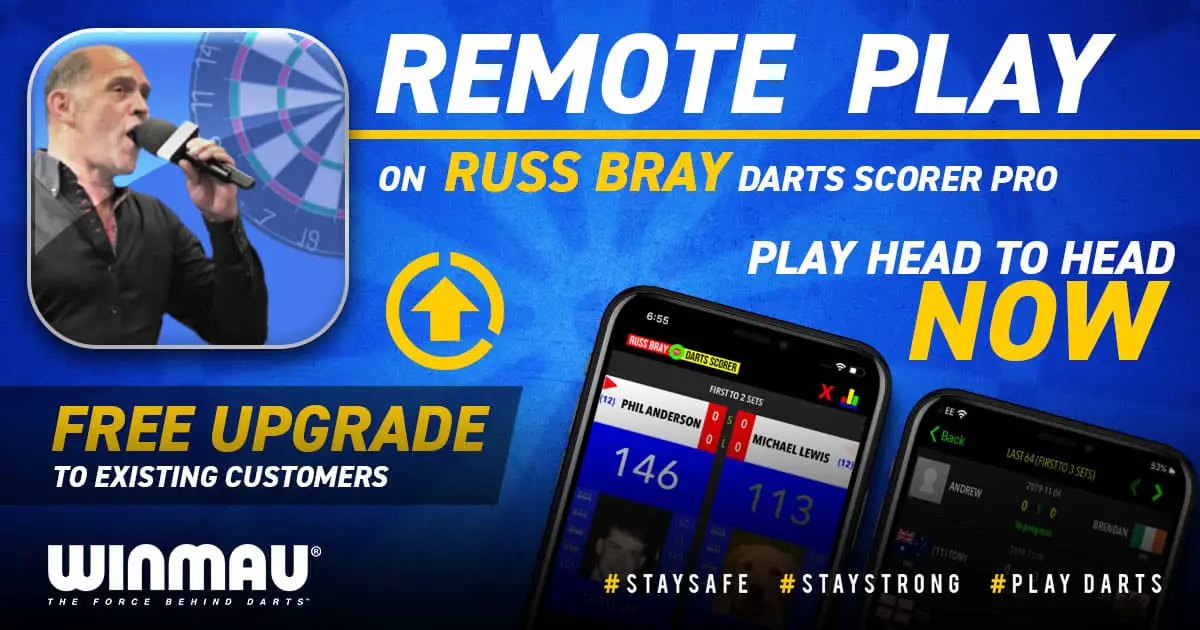 Anyone that has watched darts live on the telly, will have heard of Russ Bray. For the uninitiated, he is considered the voice of darts. Well known for calling a player's score after they throw and keeping everyone aware of the total remaining.
With a darts celebrity caller on board, it's clear the developers wanted you having fun and hearing your name called out by a legendary caller of the sport. In the free version of this app you have the option for a 2 player game of 201, but for all other games you need to have the full paid version.
It offers features for adding your own custom start number, anywhere from 101 – 9999, cricket scoring, and you can save matches to be continued at a later date. You can choose between entering the total scored during your throw, or as each dart lands. This app has plenty of features available, but it comes with a premium price tag. But then having Russ Bray call your name has to be worth the price! And we will admit, it is very satisfying to hear while we played a round during our practise match.
Download on Google Play – https://play.google.com/store/apps/details?id=com.tigapps.russbraypro&hl=en_AU&gl=US
Download on Apple – https://apps.apple.com/au/app/russ-bray-darts-scorer/id377453562
Darts Cricket Scorer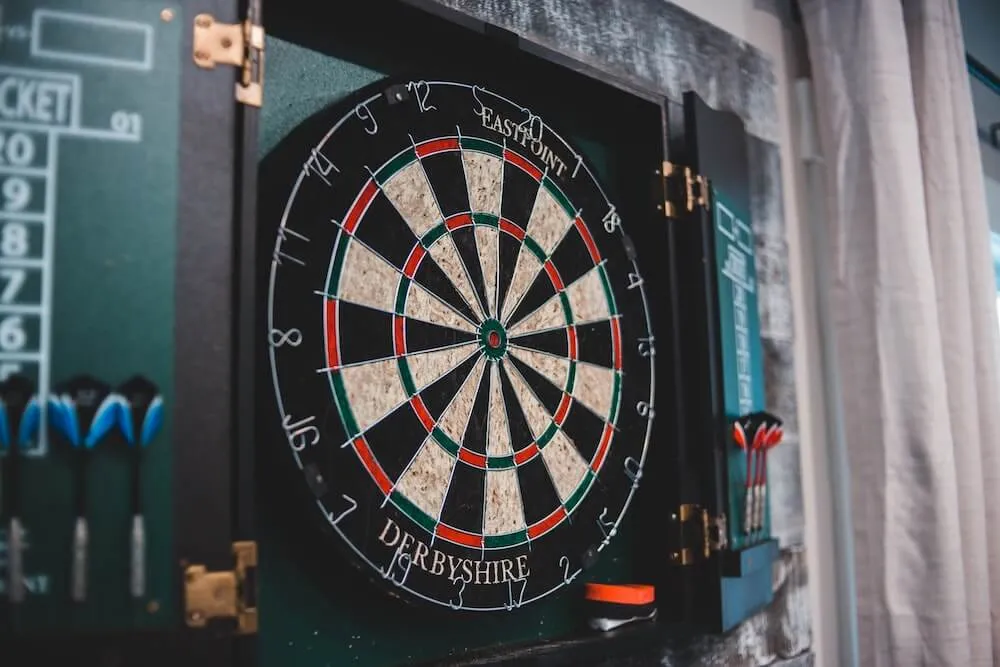 Darts Cricket Scorer is an excellent app for players that specialise in playing cricket. It has been built and designed for that game and no others, but as it's often said, why try to be them all when you can pick one thing and simply excel at that.
As a scorer it allows you to play from '20 to 15' to '20 to 10' and anything in between. You can enter in the names of the players or teams to get started, and then it'll handle keeping track of the scores. Currently, there isn't a back button in the app so if you make a mistake in entering the score, it can be difficult to fix. It is possible to select if the bullseye is in play or not and you can select whether a leg ends when both players (or teams) or the leading player clears the board.
Download on Google Play – https://play.google.com/store/apps/details?id=com.haaz.dartscricket&hl=en_AU&gl=US
Final Thought
While these are our picks for some of the best darts scoring apps available, there are new ones coming onto the market all the time. Even if you only try the 'free' version of these apps, it should be enough to give them a go and see if it fits in with your game and playing style.
For the best results consider which of the games you play he most and choose an app that has that as its main strong point. Most of these apps on offer work great in fine tuning your game and getting you used to the scoring of darts. You can work on your scorekeeping and eventually you probably won't need these at all. Well except for keeping track of your statistics!
Have a go and download some of these apps, if you find they're not quite what you're after, then there's always the delete (or uninstall) button.
Darts Apps FAQs
Is there darts scoring apps?
Absolutely, we've highlighted in this guide that there's plenty out there, no matter what operating system you're on. Our favourite is Score Darts. 
What is the easiest way to score darts?
Many competitions will have dedicated scorers, who do it manually next to the board. However, when practicing, or just playing with a friend, the easiest way is to download a darts scoring app, which does all the tricky calculations for you. 
What is a good score in darts?
If you're a professional, you're looking to average at least 90-100 per 3 darts. However, for many of us playing recreationally, a good score is simply improving on your average. Darts scoring apps are a great way to keep track of your averages, and see improvement you're making.